6 hours of FREE CEU's for the E-Learning for Social Workers and LMHC's!
The E-Learning is a great way to learn the Skills System! Course 1. Skills Basics and Course 2. Skills Coaching Strategies each take approximately 2-3 hours to complete and can be accessed on any device.
The E-Learning Courses Include:
Short colorful video lessons (Preview Video-Feelings Rating Scale above)
Practice exercises after each lesson to increase learning
Badges to earn after passing lessons to make learning fun
Letters of Completion for passing each course (85% accuracy)
Lots of free visual aids to download to help use skills in our lives
The Skills System E-Learning is:
HIPAA compliant certified (monitored & third-party audited)
User-friend for people of different ages and abilities
Self-paced learning
Cost-effective training
Adherent training done directly by the model developer.
Ideal for organizations of all sizes- Perfect for agency on-boarding/re-freshers
Skills System E-Learning Memberships
Please Note: If you order an E-Learning membership and do not receive the "Accessing the Skills System E-Learning" email containing your login details in your inbox within a few minutes, check your spam folder.
There are THREE types of Skills System E-Learning Memberships:
Individual memberships
Any individual can purchase an individual access to the e-learning.
The individual's User Id and password are sent via email.
Group Memberships
Agencies use Group Memberships to train their in-house staff. Groups can be any size. Group Administrators are designated to:
Add names and emails of group members
Support group members to navigate the e-learning
Monitor the progress of group members
Group Members have access to the e-learning for 1-year
Clinician Memberships
This special access is reserved for practitioners who are engaging in outpatient therapy, community-based, and/or outreach services. Clinicians can:
Add & remove clients as they transition in and out of services
Add & remove the clients' family members (This helps create skills coaches who can help the client use skills in their life)
Add & remove the clients' outside providers (This helps integrate the client's treatment)
This lower-cost option is necessary to get skills and skills coaching strategies into the clients' lives. Using Clinician Memberships to train in-house agency staff is a violation of the Membership Agreement.
Please Note: There are restrictions in the Terms of Use of Clinician Memberships. These are for outreach only. Programs are not allowed to train their in-house staff with Clinician Memberships. Staff must be trained on Group Memberships. Violating the terms of use will result in the termination of E-Learning access.
Agency Implementation & the E-Learning
Recommendation: Agencies should schedule a FREE CONSULTATION with Dr. Brown to:
Chat about your agency, settings, and populations served
Brainstorm about ways to structure e-learning memberships to maximize learning resources
Set-up/customize the E-Learning memberships that optimize functioning
Click below to see six different examples of how agencies might structure their e-learning programs.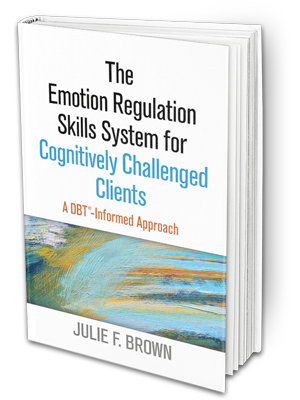 Enhancing the E-Learning Experience: If you would like to dive deeper into learning Skills or you would like to help others learn the Skills System, it may make sense to get the Skills System textbook. When you purchase the book, you can download 150 pages of handouts that can be printed for yourself, family, or caseloads. Each lesson in the Skills Basics course lists page number references to these handouts, so that the user can complete worksheets to deepen personal learning for each lesson.