Whether you are an individual or a practitioner, e-learning is a great way to start learning the Skills System. With simple language, visual aids, and demonstrations to increase comprehension, the Skills System courses are self-paced, so users can individualize their learning experience. The lessons consist of several brief videos, followed by practice exercises.
The Skills System Basics course takes approximately 2-3 hours to complete. The user earns skill icon badges for each lesson to make the learning more fun. After completing the final lesson at 85% accuracy, the user is rewarded with a Letter of Completion.
There is an introductory offer of $20 dollars per person per year, for individual memberships. Groups (e.g. families, agencies, schools, and organizations) can purchase blocks of individual memberships for their team members.
Practitioners can purchase a Clinician Membership. This format offers blocks of 5 and 25 slots for clients and their collateral supports to complete the Skills Basics course. Clients and their supports can be added and removed as cases are admitted and discharged from the practitioner's caseload.
The Skills System e-learning is a flexible, cost-effective, adherent training done directly by the model developer. It is ideal at on-boarding and for training refreshers.
To see a preview of a Skills Basics Lesson, please click the link below.
Skills System E-learning Memberships
Please Note: If you order an E-Learning membership and fail to receive the link within a few minutes, please check your spam folder for the E-Learning Access email. If you have a Group or Clinical Membership and you are adding people to your account, please remind the users to check their spam folders, if they do not receive the access link you send them.
Individual Memberships
Introductory Offer: $20 per person per year!
Individual Memberships give one person open access to the Skills Basics course for 1 year.
Group Memberships
Introductory Offer: $20 per person per year!
Groups can buy blocks of multiple individual memberships by inputting the number of users. Each block has one subscriber. The subscriber manages the account, adds names and emails of the users, and can monitor their progress. When the subscriber adds a user, the person receives a link and password via email. The subscriber can easily purchase more users for their account as needed.
Clinician Memberships
Introductory Offer: 5 Slots for $75 & 25 Slots for $300 per year!
The Clinician Membership is designed to offer practitioners and families a set 5 or 25 slots that are re-useable. This transferable slot-format is specifically intended for an individual practitioner or subscriber to be able to give access to clients, the clients' extended family members, and the clients' collateral support team members, as needed.The subscriber can place people on and off the Skills System e-learning, as they transition in and out of services.
The Clinician Membership can be used directly by families; the parent can add and remove children, extended family members, and support providers, such as teachers, social workers, and other people involved with the family.
Agencies may choose to have a combination of Individual and Clinician Memberships to address the needs of the agency's staff and people they serve. It is important to note that the Clinician Memberships and the transferable slot format are not available for agencies to rotate staff on and off the e-learning.
Invoice or Purchase Order
If organizations want to pay through invoices or purchase orders, these arrangements are made directly via email.
Understanding Skills System Membership Options
A downloadable guide for choosing the best membership category for your specific needs, goals, and resources.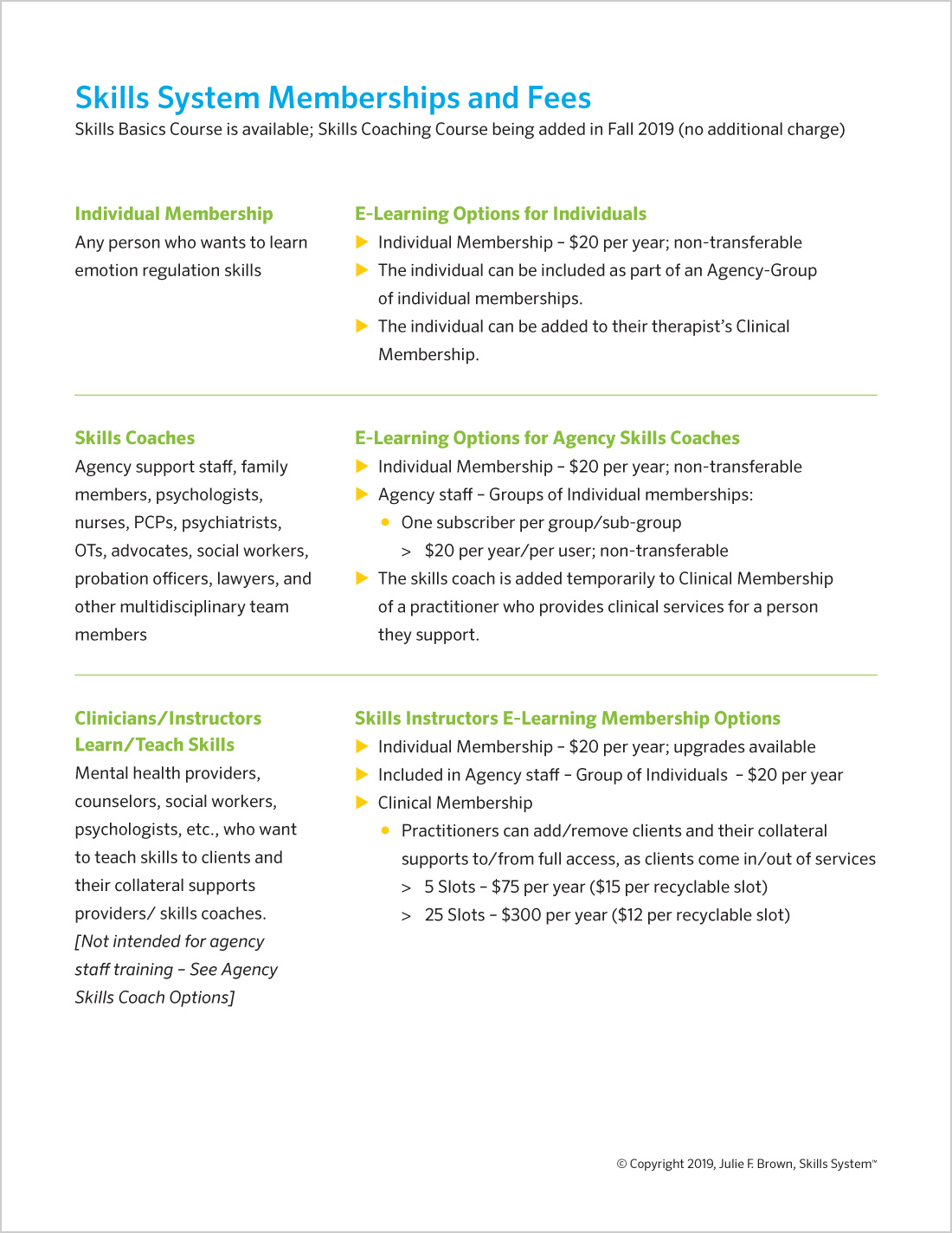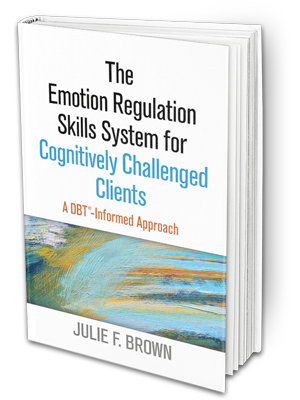 Enhancing the E-Learning Experience: If you would like to dive deeper into learning Skills or you would like to help others learn the Skills System, it may make sense to get the Skills System textbook. When you purchase the book, you can download 150 pages of handouts that can be printed for yourself, family, or caseloads. Each lesson in the Skills Basics course lists page number references to these handouts, so that the user can complete worksheets to deepen personal learning for each lesson.