The Skills System Overview and How It Can Help You.
Skills System E-Learning Memberships
There are THREE types of memberships: Individual, Group, and Clinician.
Messages from Julie F. Brown, PhD, developer of the Skills System
Morris
Julie Brown, the author of the Skills System, conducted a workshop via Zoom for the Pluryn team in Holland on March 3, 2020. Forty-five psychologists attended the training in Holland and the presentation was available to the public through the Skills System.  The Pluryn team translated the Skills System [...]
Julie Brown
Course 2. Skills Coaching will be added to Skills System E-Learning Memberships by March 2020. Course 1. Skills Basics helps people learn important self-regulation strategies. When families, groups or teams learn skills, it helps them co-regulate together. Course 2. Skills Coaching Strategies will be completed after Course 1 and [...]
Julie Brown
Why a Skills song?  Music can mobilizes essential/core parts of us—the notes and rhythms carry us through the moment. It sets us free and anchors us all at the same time! Songs can teach in subtle ways that release awareness, insights, and connections over time. Using Regulators [...]
Subscribe to Our Monthly Newsletter to Receive Free Articles, Information & Training Updates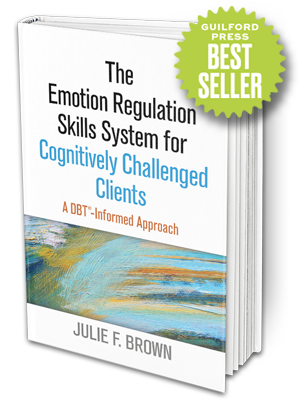 Skills System Textbook
The Emotion Regulation Skills System for the Cognitively Challenged Client: A DBT™-Informed Approach (2016) by Julie F. Brown, PhD, is available through Guildford Press and Amazon. This book provides a comprehensive presentation of the Skills System curriculum materials, and allows the purchaser to download an additional 150 pages of supplementary handouts. The Skills System is a highly effective treatment tool that has been used successfully in a multitude of settings with a myriad of individuals who have diverse behavioral and learning profiles.