Regulate emotions. Maximize potential.
The Skills System is a user-friendly set of emotion regulation skills, designed to help people of various ages and abilities, manage emotions. It helps us be aware of our current moment, think through the situation, and take goal-directed actions that align with our values.
Messages from Julie F. Brown, PhD, developer of the Skills System
Morris
Alexandra Rosendahl Santillo Leg psykolog Leg psykoterapeut Specialist psykologisk behandling / psykoterapi Handledare och lärare KBT In our work with DBT, we had many patients who did not manage the standard DBT-treatment, we really needed a method that suited our patients with cognitive difficulties and self-harming behaviors. Then we [...]
Morris
The Spanish language option is now available on the E-Learning dashboard. Once the person chooses Spanish, they can: Watch Spanish subtitled videos. Complete exercises in Spanish. Download the skills map, skills cards, and skills posters that are in Spanish. Many thanks to the DBT team in Argentina and in [...]
Morris
The Skills System workgroup of practitioners who work with children completed a set of adapted handouts for Elementary children and High School students. The worked examples were adapted to be age-appropriate and relevant for these age groups. If you have purchased the Emotion Regulation Skills System text (2016), you [...]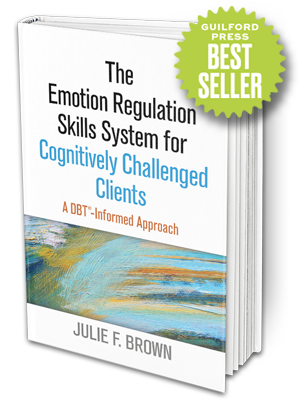 Skills System Textbook
The Emotion Regulation Skills System for the Cognitively Challenged Client: A DBT™-Informed Approach (2016) by Julie F. Brown, PhD, is available through Guildford Press and Amazon. This book provides a comprehensive presentation of the Skills System curriculum materials, and allows the purchaser to download an additional 150 pages of supplementary handouts. The Skills System is a highly effective treatment tool that has been used successfully in a multitude of settings with a myriad of individuals who have diverse behavioral and learning profiles.