Skills System 2-Day Training
Skills and Skills Coaching Strategies
March 30-31, 2020 | Needham, MA
On March 30-31, 2020, Julie F. Brown, PhD, will be conducting a 2-day Skills System training in Needham, MA, (160 Gould Street) sponsored by Justice Resource Institute. The Skills System is a DBT-Informed emotion regulation skills curriculum that practitioners can teach to (a) individuals with complex learning/behavioral health challenges and (b) the staff/family members that support them. The training will cover: Introduction to emotion regulation, The Skills List & System Tools, All-the-Time Skills & Calm Only Skills, Skills coaching techniques, and Skills instruction.
100% proceeds from this training will be donated to RAW Haiti. Click below to learn more.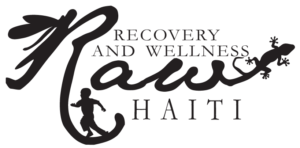 Skills System E-Learning — Introductory Offers
There are THREE types of memberships: Individual, Group, and Clinician.
Announcements
Messages from Julie F. Brown, PhD, developer of the Skills System
Skills System Competency Questionnaire (SSCQ)
Although the Skills System is user-friendly model, becoming a skills instructor who teaches individuals with complex issues and trains their staff/family members how to skills coach, requires a high level of Skills System competency. The SSCQ is a tools that prompts self-reflection and orients you to the different aspects that are involved in being able to use the Skills System model to its fullest potential.
Recent Publication: Free PDF Download
Brown, J.B., Hamilton-Mason, J., Maramaldi, P., & Barnhill, L.J. (2018). Beyond the Surface of Consumer-Staff Relationships. Global Journal of Intellectual & Developmental Disabilities, 4(4), 1-6.
Abstract: The perspectives of individuals diagnosed with an intellectual disability and mental illness who demonstrate challenging behaviors are underrepresented in the literature. The goal of this study was to explore the perspectives of consumers with a dual-diagnosis on their relationships with staff. This qualitative constructivist grounded theory study included 30 individuals with mild or moderate intellectual disabilities, at least one co-occurring mental health diagnosis, and a history of challenging behaviors.
Recent Publication: Free PDF Download
Brown, J.B., Hamilton-Mason, J., Maramaldi, P., & Barnhill, L.J. (2017) Communication Crossroads. Global Journal of Intellectual & Developmental Disabilities, 3(4): 555616.
Abstract
This review examines an emergent analysis in a constructivist grounded theory qualitative study that explored how bi-directional communication patterns were observed impacting the demonstration of cognitive strengths of individuals with intellectual disabilities, mental health issues, and histories of challenging behaviors in a focus group setting.
The Carlat Report-Psychiatry
The literature highlights that individuals with intellectual disabilities experience higher rates of mental illness than non-disabled counter-parts. Despite these increased vulnerabilities, the availability of ID-specific psychiatric and psychological treatments are limited. Please download this edition of The Carlat Report-Psychiatry for an excellent overview of psychiatric services for individuals with dual-diagnosis by Julie Gentile, MD. Additionally, on pages 6-7 there is an introduction to the Skills System that was developed by Julie Brown, PhD.
Improving Assess of DBT for Individuals with Cognitive Challenges
Individuals with intellectual disabilities (ID) experience heighten vulnerabilities related to complex biopsychosocial factors, yet have limited access to comprehensive psychologically-based treatments to address these pervasive problems. Dr. Brown, a DBT trainer with Behavioral Tech, LLC- Linehan Institute, was invited to write a book chapter about how to adapt DBT for individuals with ID.
Translating the Skills System Handouts into Other Languages
The Skills system handouts are currently available in English, Swedish and Icelandic. Teams are working on Dutch and Korean translations.
The following steps we taken by a team in Sweden to translate the Skills System handouts into Swedish. They did an amazing job with this challenging project and kindly shared the steps they took to execute this achievement. If you are interested in facilitating a translation, please feel free to contact me about this process.
 Jump in With Both Feet!
It has come to my attention that many newcomers to the Skills System and those who have been using the model for years are continuing to utilize the 2011 self-published text (The Skills System Instructor's Guide: An Emotion Regulation Skills Curriculum for All Learning Abilities). I would recommend everyone invest in the 2016 Guilford Press version (The Emotion Regulation Skills system: A DBT-Informed Approach). While the core elements remained the same in the update, there are a few sub-skill changes that clarify Skills System mechanisms. The new text providers a clearer theoretical framework and …
A New Article! Free Download!
This article, recently published in the Journal of Mental Health Research in Intellectual Disabilities is entitled Exploring Perspectives of Individuals with Intellectual Disabilities and Histories of Challenging Behaviors about Family Relationships: An Emergent Topic in a Grounded Theory Focus Group Study. This is a unique piece of research because it explores the complex topic of family relationships from the perspective of individuals who are diagnosed with an intellectual disability that have one/more co-occurring mental illnesses and histories of challenging behaviors.
New Instant Best Seller!
The Emotion Regulation Skills System for the Cognitively Challenged Client: A DBT™-Informed Approach (Brown, 2016) was recently deemed a Guilford Press Instant Best Seller. Click the link below to go to Guilford Press to get your copy. Thank you all for purchasing the revised version of the Skills System!
Check out the New Blog Posts by Dr. Susan Vaught & Deborah Jackson, LICSW
Dr. Vaught added a post entitled The Competency Vacuum that addresses the difficulties associated with treating individuals with complex mental health and learning challenges. Deborah Jackson's post discusses using the Skills System with forensic populations.
Subscribe to Our Monthly Newsletter to Receive Free Articles, Information & Training Updates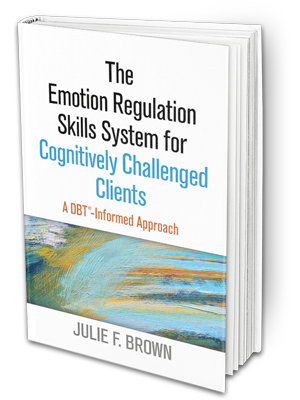 Skills System Textbook
The Emotion Regulation Skills System for the Cognitively Challenged Client: A DBT™-Informed Approach (2016) by Julie F. Brown, PhD, is available through Guildford Press and Amazon. This book provides a comprehensive presentation of the Skills System curriculum materials, and allows the purchaser to download an additional 150 pages of supplementary handouts. The Skills System is a highly effective treatment tool that has been used successfully in a multitude of settings with a myriad of individuals who have diverse behavioral and learning profiles.