Regulate emotions. Maximize potential.
Take the First Step towards learning about the Skills System skills that help you manage emotions, reach your goals, and live aligned with your values. These user-friendly skills and learning resources are for people of all ages and abilities. Watch the free 30-minute First Step training to get started!
Skills System E-Learning Memberships
There are THREE types of memberships: Individual, Group, and Clinician.
Messages from Julie F. Brown, PhD, developer of the Skills System
Morris
Hi, my name is Tienne Simons, and I am a mental health social worker working in Sydney, Australia with a Not for Profit called Lilly Pilly. In Oz, we have a program called NDIS, the National Disability Insurance Scheme. NDIS is a government-funded program that provides support for people [...]
Julie Brown
Brian Newcomer, AMFT, LAADC President, Center for Personal Growth, San Diego, CA Background The Center for Personal Growth (CPG) has been using the Skills System with people with intellectual disabilities and/or physical challenges (e.g. mobility issues, visual-impairment, hard of hearing) since 2010. CPG has a contract with the San [...]
Julie Brown
Julie Brown, the author of the Skills System, conducted a workshop via Zoom for the Pluryn team in Holland on March 3, 2020. Forty-five psychologists attended the training in Holland and the presentation was available to the public through the Skills System.  The Pluryn team translated the Skills System [...]
Subscribe to Our Monthly Newsletter to Receive Free Articles, Information & Training Updates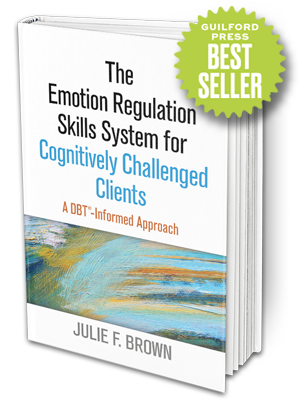 Skills System Textbook
The Emotion Regulation Skills System for the Cognitively Challenged Client: A DBT™-Informed Approach (2016) by Julie F. Brown, PhD, is available through Guildford Press and Amazon. This book provides a comprehensive presentation of the Skills System curriculum materials, and allows the purchaser to download an additional 150 pages of supplementary handouts. The Skills System is a highly effective treatment tool that has been used successfully in a multitude of settings with a myriad of individuals who have diverse behavioral and learning profiles.