Regulate emotions. Maximize potential.
The Skills System is a user-friendly set of emotion regulation skills, designed to help people of various ages and abilities, manage emotions. It helps us be aware of our current moment, think through the situation, and take goal-directed actions that align with our values.
Messages from Julie F. Brown, PhD, developer of the Skills System
Morris
Register Join us for a free, 1-hour live, online training that Julie will be doing with the Iceland team on September 29, 2021 at 9 am EST. This training will cover issues related to teaching and offer skills coaching to vulnerable learners of different ages and abilities in various settings [...]
Morris
It was in the middle of June 2017 and the sun was shining in Belfast, Northern Ireland. We – Bjargey Una and Halldor - were a part of a small group of professionals and managers from Iceland, attending the IASSIDD Health Conference Belfast 2017: Bridging the Gap. The beautiful [...]
Julie Brown
Julie Brown, the author of the Skills System, conducted a workshop via Zoom for the Pluryn team in Holland on March 3, 2020. Forty-five psychologists attended the training in Holland and the presentation was available to the public through the Skills System.  The Pluryn team translated the Skills System [...]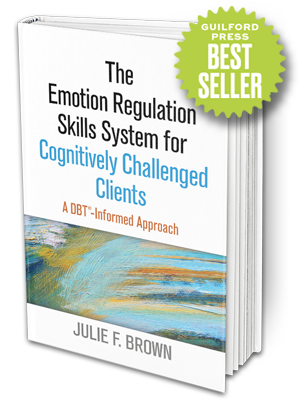 Skills System Textbook
The Emotion Regulation Skills System for the Cognitively Challenged Client: A DBT™-Informed Approach (2016) by Julie F. Brown, PhD, is available through Guildford Press and Amazon. This book provides a comprehensive presentation of the Skills System curriculum materials, and allows the purchaser to download an additional 150 pages of supplementary handouts. The Skills System is a highly effective treatment tool that has been used successfully in a multitude of settings with a myriad of individuals who have diverse behavioral and learning profiles.